Hey everyone! It's Friday and even better it's Labor Day weekend. Our last chance to enjoy some festivals and cookouts before the cooler weather hits. Speaking of cooler weather and fall, I have been working on a little fall printable with words that remind me of fall to display in my entryway to give myself and guests a warm autumn welcome! Even better, I am going to make it
FREE for you to download
and print out yourself! Put it in your favorite frame or clip board amongst your pumpkins and mums! You could also put it on your fridge, bulletin board or any place you'd like to dress up with a little fall pizazz.
Just click the above image to print the 8x8" PDF file onto card stock and you'll have a nice piece of pretend chalk board art without the dust!
After I made this printable, I was trying to think of the perfect way to display it and other seasonal print outs. I've seen clip board photo holders all over Pinterest.
Elle Decor Magazine
Mamie Janes
Salvaged Grace
But a lot of these gorgeous clip boards just weren't doing a whole lot for me and my style and I wanted something different and more rustic and less vintage. I was roaming around our local hardware store one day and I came across these packages of contractor shims.
A light bulb went off in my head. Mini pallets! Yes! I could make mini pallets and put a clip on them to hold pictures and things I want to change out.
I bought a package of large shims and small shims for less than $5. I didn't use the mini shims in this project but they will be used another day!
I literally drove home as quickly as I could because I was so excited. It was a two day process to let everything dry, but I came up with that I think are really cool, rustic 11x11" photo holders that look just like mini pallets!
I am so excited about this easy, fun project that I plan on making more! The possibilities are endless. They could be used with the clip off to paint lettering on for signs, coasters, displays, back drops and more.
Here's how I made them and here's how you can too!
I started by taking two shims and gluing them together placing the planes in opposite directions with Gorilla wood glue. Once those dried ove night, I created a pallet shape with my pieces. I used 8 sets of glued together shims to create a nice 11" square. I then placed a set of shims on each side with a little space from the edge to create the pallet look. Once I had my shape the way I liked it, I made everything squared up by using the two shims to line everything together.
I then lathered on glue to one side of my piece and I placed it onto the loose 8 pieces. I then repeated this process on the other side. And that's all I did to hold all my pieces together!
I then let these dry again over night. The next day, after my pieces were firmly glued, I took my little fine sanding block and gave the top of the mini pallet a really good sanding all over. I then took a rough block and removed some of the splinters on the edges. You don't want to go over board on the sanding if you want to keep that rough pallet look. If you're going to paint them or give them a more modern look, then sand like crazy!
After I finished my sanding and had my surface the way I wanted it, it was time to stain! First I used a tack cloth to remove all the dusty
I only had two stains available. Ebony and early american. I did a test on some scrap pieces to see which I liked better.
I wasn't impressed with either two stains. Although, if you have a lot of black in your house, the black would be cool! I decided to just use some clear polyurethane we had left over from the woodwork in our house. I applied it with a little sponge. I put on a thin layer then I let it for several hours. To prep for the second coat, I lightly sanded my first coat then used the tack cloth to remove the dust. I applied a second thin coat of polyurethane.
Once my coats of polyurethane were dry, I took a shop rag and rubbed a thin layer of
antique glaze
over the entire pallet, really working it into the crevaces of the wood. I loved the way it turned out so I did the second one that way. Below, you can see the glazed version on the left and the plain version before the glaze on the right.
I love how the glaze gave the wood that old pallet look! It really added some texture.
My wonderful husband brought home these clips from Walmart.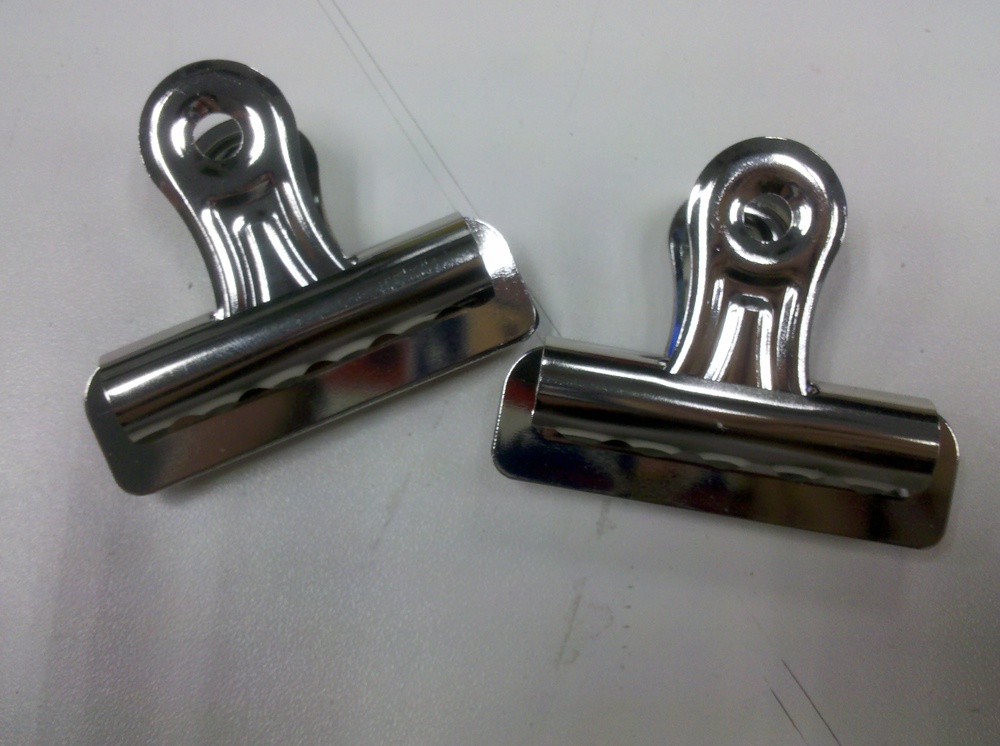 These were probably the most expensive part of the project! $2 a pair. I didn't want them shiny and new, so I spray painted them with an oil rubbed bronze color. Once they dried, I sanded the edges to give them a worn look. I took a ruler and found the center of the board and attached my clip with Gorilla glue and let it dry.
All done! Now it's time to add some art work!
After jack gets done enjoying himself. By the way, did I mention they make great cat pedastools?
I love the way the boards look on an easel!
And that's all there is to it! What else would you do with these mini pallets besides gluing a clip to them for a picture holder? I want to hear your ideas!